Alisa Cooks ~ As the masses wade through Black Friday crowds, I sit here behind my computer, with a warm blanket and a fresh pot of hot tea, sharing with you my holiday gift secrets. Sure, I'm not resistant to some of the out-of-this-world sales that pop up this time of year (gotta love online shopping), but when it comes to gifting, I'm all about supplying friends and family with good food. Think about it, something made with love in your very own kitchen, a consumable that won't threaten to clutter their closets or end up in a garage sale (or worse yet, regifted!), and a decandent taste that will be etched in their memory long after they have broken that hands-free toothpaste dispenser. Oh, and did I mention the massive savings you will enjoy in both cost and time?
While the malls and electronic stores fill to the brim, head to your local grocer, which is probably now virtually empty thanks to all of the Thanksgiving leftovers. Pick up a bag or two of chocolate chips, a can or two of full-fat coconut milk, and if you don't already have them on hand, some real peppermint and vanilla extracts. That's it; less than $15 and you are now armed with enough supplies to prepare a box of handmade truffles for 5 to 10 loved ones! Yes, I said truffles … gourmet, gluten-free, and vegan truffles.
As a general rule, my house is a dairy-free zone. For that reason, all of my food gifts are always dairy-free, too. But beyond wanting to keep my own kitchen "safe," I love seeing the looks on people's faces when they find out the incredible indulgences are completely milk- and cream-free. This year, to meet the chocolate demands of my family, I stocked up on the new Dairy-Free Chocolate Dream Semi-Sweet Baking Chips …
I discovered these cheerful blue bags of Chocolate Dream Semi-Sweet Chips at the local grocery store in my small town. I honestly couldn't believe I was able to just walk up the street and purchase truly dairy-free chocolate chips (made on dedicated equipment!); my how times have changed. The Chocolate Dream Chips are a touch sweeter than the brand of chips I had previously purchased, Trader Joes, but that makes them perfect for making kid- and adult-friendly truffles without any added sugar. They are also gluten-free (yes, believe it or not, many brands of chocolate are not actually gluten-free!), and tested to less than 5ppm for both milk and gluten. But most importantly, these chocolate chips make deliciously flawless in these truffles …
These babies are rich, sweet, and so, so, SO easy to whip up! Trust me, they are a simple way to impress any chocolate fan around the holidays. Plus, you can customize them. As you can see, my favorite were the Peppermint Crush …
But, you may be like my husband and prefer the simple cocoa and powdered sugar dusted …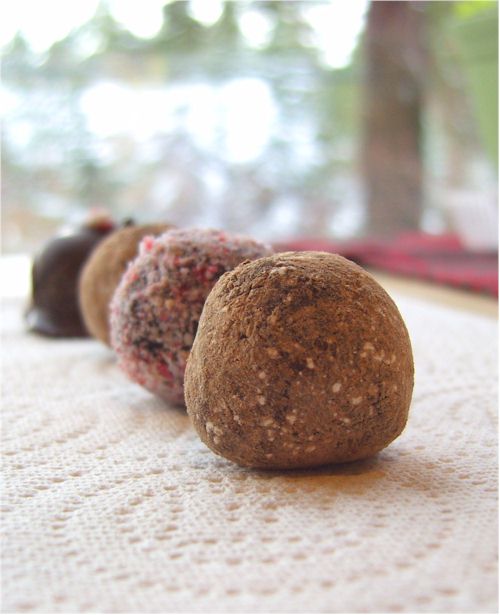 Another great thing about homemade truffles is that you can make them any size you want. Roll some jumbo-sized to dazzle family and friends, or roll little bite-sized ones as you attempt (in vain, like me) to exercise portion control through the holidays.
Semi-Sweet Chocolate Mint Truffles – 4 Ways
This recipe is Vegan, Dairy-Free, Egg-Free, Gluten-Free, Grain-Free, Nut-Free, Soy Protein-Free (this brand of chocolate does have soy lecithin), Wheat-Free, and almost healthy. I said almost!
1/4 Cup Coconut Cream (see directions)
8 Ounces Semi-Sweet Chocolate Chips, approximately 1-1/3 Cups (as mentioned, I used those dairy-free Chocolate Dream Chips – blue bag)
3/4 to 1 Teaspoon Peppermint Extract (to taste)
1/4 Teaspoon Vanilla Extract
Optional Toppings: Crushed candy cane, powdered sugar, melted semi-sweet chips, cocoa powder.
First things first, lets get some coconut cream. You can actually buy coconut cream in a can or aseptic package at many stores, or you can just skim the cream off the top of a regular (not light!) can of coconut milk. Grab a can, and don't disturb it. Do not shake, stir, or otherwise emulsify the contents of the can. When you open the can, it should look somewhat like this …
See that nice thick cream on top. It should scoop out nicely. I usually get about 1/2 cup of cream per can (just enough if you opt to double this recipe). Underneath is a watery coconut milk. You can reserve that for using in some other savory meal or sweet baked goody.
Okay, now that you have the cream, melt the chocolate. I'm lazy, I just fire the chips in the microwave in 30 second intervals (usually just two will do it), virorously whisking in between cycles to get a smooth consistency. You can go the fancier way and melt it with a double broiler if you wish though. Once the chocolate is nice and smooth, stir in the coconut cream, mint extract, and vanilla extract. The cream may be a bit lumpy, just whisk until it all smooths out. Place it in the refrigerator to chill for several hours.
Once it has firmed up, scoop and roll into balls – whatever size you like. The chocolate will be firm, but it does soften a bit at room temp, so I like roll each of the balls (to coat) in one of the following:
Cocoa Sugar Combo – Sift together equal parts cocoa and powdered sugar.
Melted Chocolate – Melt some more chocolate chips with a touch of shortening or coconut oil. Dip the balls to coat, and place them in the freezer or fridge to set up.
Peppermint Crush – Place a little candy cane in your spice grinder and whiz until powdered / crushed (just takes a few seconds). Keep in mind, the peppermint crush can get a touch sticky over time. For optimal storage, opt for the Peppermint Crunch option that follows …
Peppermint Crunch w/ Cocoa – This is another favorite; when you scoop out some of the chocolate, press it into some of the crushed candy cane, and then mush it together and roll into a ball so that you end up with wee crunchy peppermint bits throughout. If you don't want a super mint rush, you can just do the peppermint crunch and reduce or omit the mint extract. Roll in cocoa powder or cocoa/sugar to coat.
Makes a boatload of truffles … I don't know, maybe 4 or 5 dozen?
Article, recipe, and photos by Alisa Fleming, founder of GoDairyFree.org, blogger at Alisa Cooks, and author of Go Dairy Free: The Guide and Cookbook for Milk Allergies, Lactose Intolerance, and Casein-Free Living. Alisa is also a freelance writer for several publications, with an emphasis on creating recipes for various types of special diets.