Thanks to Amy B. for this recommendation – I've been a pizza fan my whole life, or at least as long as I can remember. A slice of pizza with it's warm gooey cheesy goodness with the dreamy scent of pizza dough and I get instantly hungry even if I have just eaten an entire meal. I discovered however when I was a teenager, my skin would break out after eating pizza. And then I realized I felt gross instead of satisfied. After my diagnosis of Celiac and dairy allergy, I did not think I would EVER be able to enjoy pizza again, much less smell pizza without pain and agony. So why on earth would I go to a pizza parlor resturant? Two words: mahi-mahi. Wait that was one word.
My boyfriend and I had a rare night out on Sunday, venturing to a place where few would bother going to. One walk into the resturant and you knew that gone were the days of the hole in the wall Uno's. Run down and not so hot food. At least that was the Uno's I remember. Well the newly revamped Uno's Chicago Grill has a new look, and a whole new menu.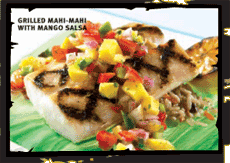 I ordered the Mahi-Mahi with brown rice and steamed veggies. I told my waitress that I had a dairy and gluten allergy. My meat and potatoes boyfriend ordered sirloin and shrimp with mashed potatoes. When the food arrived I was blown away by my dish. It looked fabulous! I immediately dug into the brown rice. There was little bits of crasins and mango in it. I was in rice heaven. It tasted so good and rich, I had to ask the server again if it had dairy in it. The Mahi-mahi had a sweet and tangy mango salsa covering it, the onion was not overwhelming on this dish, which was good because I was with Jonathan who would not appreciate the taste of onion! I sampled the veggie side, which was a great medley of summer squash zuchinni and sliced carrots. Once I had tasted everything I started to eat it. The Mahi-mahi was firm and most. Absolutely perfect and a nice light choice to eat before a night of dancing. I literally polished off the entire plate. I should have taken a before and after picture. You would have seen a luscious dish full of yummy food and then an empty plate. Licked clean.
I studied the menu thoroughly and there were a lot of options for a dairy free diet and a gluten free diet. Steamed veggies, plain meats, the pizza dough appears to be dairy free, but ordering a pizza without cheese shouldn't be a problem. Going over their website www.unos.com and you can study the menu. It lists every ingredient in each menu item complete with nutrition and allergy info. There is a section on gluten-free menu items which was really exciting for me. I made it to a restaurant where they serve pizza with no problems. Success in my new lifestyle!
So since I made it through this establishment without an incident, I am passing this on to you to enjoy. The next time you see an Uno's don't drive by. Please park the car and walk right in and relish in the fact that you can safely dine here.
Photo From: www.unos.com