With Memorial Day past and temperatures rising to sticky levels in the East (Would you mind sharing some of that summer warmth with us West Coasters?), discussions of cool desserts are beginning to swirl around the internet. And even though I'm sitting here with a hot mug of tea, snuggled up in a fleece, my thoughts keep wandering to what homemade ice cream flavors I will trial this year.
In all honesty, though I love making my own concoctions, I really miss going out for ice cream. It isn't the dairy ice cream itself that I long for, but rather the fun experience of going out for, and enjoying, an ice cream cone. (Baskin Robbins, if you're reading please consider adding some dairy-free and vegan ice cream options to your menu, beyond boring sorbet!). But, sometimes, you just have to make do. This means either making my own ice cream vessels, or simply picking up some cones at the store. Easy enough to do since I can consume gluten, and most brands of ice cream cones (including those yummy sugar cones!) are dairy-free, but what about all of you who are gluten-free too?
Again, homemade is an option, but I received some waffle cones from Goldbaums, which happen to be gluten-free, too. Yes, the cone pictured at left is gluten-free, but it wasn't quite what I expected from a waffle cone. Goldbaums are thinner, and more of a cross between a waffle cone and those plain, unsweetened cones. I would love to see them come out with a heftier cone that is just a touch sweeter (for us sugarholics), but for now I think this is an excellent gluten-free option that offers a more neutral taste for serving up your favorite dairy-free ice cream.
But enough about ice cream cones. I can hear your now, "These cones sound great Alisa, but where is this recipe you have promised?!" Ah yes, the recipe…
Well, contrary to what you might expect, this ice cream cone review is not coupled with an ice cream recipe. As luck (or lack thereof) would have it, that cone pictured above was the lone survivor of some rough UPS handling. The rest of the cones suffered a crushing fate, leaving me with hundreds of little cone shards.
But you know my waste not, want not attitude – crumbs or not, there was a use for this gluten-free goodness. My first order of waffle cone bit business was to do the obvious, coat them in chocolate …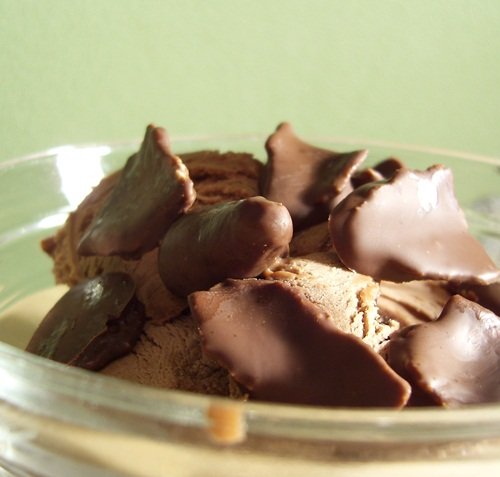 Divine. I melted some dairy-free chocolate chips (Dream brand) with a little coconut oil and dipped away. Loved these on Tempt Chocolate Fudge "ice cream" (I haven't fired up the ice cream maker just yet, but this was a great option for store-bought).
And really, though slightly different in flavor, I saw no reason why these cone pieces couldn't sub in for graham crackers in … wait for it … wait for it … this awesome recipe …
S'mores-Style Crispy Rice Treats
This recipe is Dairy-Free, Egg-Free, Gluten-Free, Nut-Free, optionally Vegan, and optionally Soy-Free.
1/4 Cup Dairy-Free Margarine (I used Earth Balance Soy-Free)
10 Ounces Marshmallows (feel free to use vegan marshmallows if you prefer, though you may need to adjust the liquid and crispy amounts)
2 Cups Broken Waffle Cone (I used Goldbaum gluten-free cones) or Graham Crackers
4 to 4-1/2 Cups Brown Rice Crispy Cereal
1 Cup Daiy-Free Chocolate Chips (I used Dream brand)
In a large pan, melt the margarine over medium-low heat. Add the marshmallows and stir often to help them melt and turn into a marshmallow goo or cream with the margarine. Remove the pan from the heat and stir in the waffle cone or graham crackers and then the crispy rice cereal until it no longer seems too gooey (of course the idea is gooey here, but this stuff is like glue!).
Let that cool for a few minutes before stirring in the chocolate chips, lest they melt, which really wouldn't be a bad thing either.
Press the mixture into a greased 9 x 13" pan. Mine was hard to handle. I tried greased plastic wrap, wax paper, spray oil on the fingers, etc. to help keep it from sticking to my hands, but what worked best was simply slightly damp hands.
Let cool. Cut into bars. Share … 'cause rice crispy treats are definitely meant for sharing.
Makes more bars than you should eat in one sitting
Article, recipe, and photos by Alisa Fleming, founder of GoDairyFree.org, blogger at Alisa Cooks, and author of Go Dairy Free: The Guide and Cookbook for Milk Allergies, Lactose Intolerance, and Casein-Free Living. Alisa is also a freelance writer for several publications, with an emphasis on creating recipes for various types of special diets.