After posting my review for Wholesome Chow's Vegan Cake Mixes, I had some requests for the berry whipped topping that I used on the lavender cupcakes that I made. Since the recipe is ridiculously easy, versatile, and scrumptious … I thought it was time to share.
It comes out light and relatively firm like whipped topping, but with a richer flavor … kind of a whipped frosting / topping hybrid, if you will. It's perfect for a pretty purple cupcake topping or to frost a cake. You can also go seasonal with it, mixing up the jams you use to create colorful springtime and Easter toppings!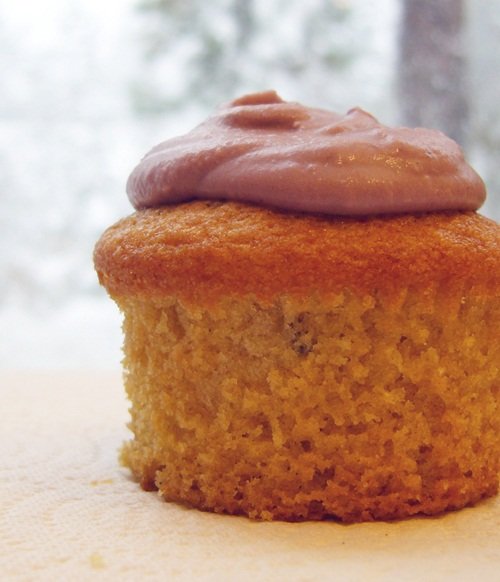 This berry whipped topping is adapted from the even more versatile Whipped Coconut Cream recipe from my book, Go Dairy Free: The Guide and Cookbook. Like some of my more indulgent recipes, this one uses coconut cream as an alternative to dairy cream. Coconut cream is merely the cream that comes to the surface on a can of regular old coconut milk. All you have to do is refrigerate a can of coconut milk overnight,, open it up, and scoop out the thick cream on top. As for the leftover coconut milk or water, simply use it as a light coconut milk in recipes or blend into a smoothie!
You can see my Mint Truffles Recipe for a visual of what the cream will look like when you open the can. I get about 1/2 cup of cream per can. My favorite brand for consistency and price is 365 Organic from Whole Foods. So 1 can was all I needed for the full batch below.
Light coconut milk will not work, you MUST buy a can of the full fat version. This is dessert people!
Reader Raves: Creamy Berry Whipped Topping
Eleanor tried this recipe when I posted it on my old blog, and this was her feedback:
I made this for a Victoria sponge-type cake on Saturday and it was amazing! Thank you so much!
Special Diet Notes: Creamy Berry Whipped Topping
By ingredients, this recipe is dairy-free / non-dairy, egg-free, gluten-free, nut-free, peanut-free, soy-free, vegan, plant-based, and vegetarian.

Whipped Berry Topping
Ingredients
½ cup coconut cream (see notes above)
2 tablespoons jam (I used raspberry)
1 tablespoon powdered sugar, or more as desired
2 teaspoons coconut oil, melted (more will make it firmer, less for softer)
Pinch salt
Instructions
Whip all ingredients in a mixing bowl. I used a hand mixer, and whipped for about 1 minute. Taste test. If not sweet enough for you, blend in more powdered sugar to taste. Place the whip in the fridge for 30 minutes or more, allowing it to firm up a bit more. Whip just before serving (I just used a whisk).
The end result dolloped nicely and stayed perfectly in place for pictures and as I was eating it. But, if it isn't firm enough for your desires, additional powdered sugar and/or additional coconut oil (add when melted, but it will solidify as it chills) will firm it up more.
Note:
As you can tell from my picture below, I was too lazy to sift the powdered sugar since it was such a small amount. For the absolute smoothest results, sift the powdered sugar and follow the directions in
Go Dairy Free
for whipping.