Alisa Fleming ~ I receive quite a few cookbooks for review throughout the year. Hmm, that may be a slight understatement. How about, I received three bookshelves full of cookbooks for review each year. Not all of them make the cut and are featured here on Go Dairy Free. I only highlight the books that caught my attention for one reason for another and that I believe many of you will enjoy.
That said, I think this was the year of the vegan cookbook. I test out titles that are dairy-free, gluten-free, health-oriented, and even raw, but at last count, about twenty different vegan-themed recipe collections crossed my desk in the last six months alone. Some, alas, were not so hot. Several were quite good. But a few really stood out from the pack.
Here are my completely unbiased picks for the best new vegan cookbooks for gift giving and receiving (tested and approved by non-vegans to boot!):
Vegan Holiday Kitchen – This gorgeous hardcover cookbook simply shouts "holiday gift!" But don't think for a minute that it will be tossed aside after the New Year. The author, Nava Atlas, covers celebrations year-round, with entire chapters of recipes for brunches, potlucks, and summer entertaining, too.
More teasers for this cookbook: My Full Review of this Cookbook
The Allergy-Free Cook Bakes Bread – This cookbook is getting some serious mileage in my kitchen right now. It isn't full color, but an attractive cookbook nonetheless, and incredibly practical for any baker who needs to learn the art of gluten-free baking sans dairy and eggs, too! I've customized a few of the recipes in this cookbook to what I've had on hand, and all produced excellent results. Note that this is a vegan cookbook, and suitable for anyone who needs to avoid the top food allergens.
More teasers for this cookbook: Maple-Sweetened Chocolate Chip Banana Bread
Vegan Pie in the Sky – On its own, this little cookbook makes an awesome stocking stuffer. As usual, Isa Chandra Moskowitz and Terry Hope Romero, the leading vegan author duo, take on a food category in grand style. You and your recipient will love the variety of recipes in addition to the authors' entertaining wit throughout the book. It is full-color, though not in a gorgeous striking way. Rather, this is a "cute" cookbook that will likely get some solid use. Make it a full box-set gift and complete the collection by adding Vegan Cupcakes Take Over the World and Vegan Cookies Invade Your Cookie Jar.
More teasers for this cookbook: My Full Review of this Cookbook and the Maple-Pecan Pie photo below
Hearty Vegan Meals – Celine Steen and Joni Mare Newman are two of my favorite vegan cookbook authors. They are masters of creativity and enticing recipe titles, all packaged into fun, yet attractive recipe collections. This is a hefty full-color, soft cover tomb, with photos by the talented Ms. Steen herself. This one is perfect for any hungry dairy-free or vegan foodie on your list.
More teasers for this cookbook: Vegan Apple Pie in a Pecan Crust and My Full Review of this Cookbook and the Chocolate-Dipped Pecan Muffin photo above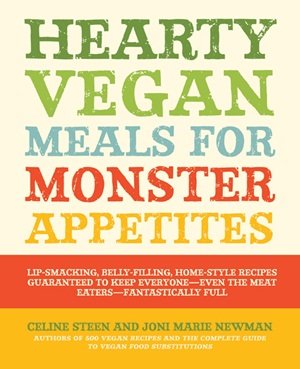 Candle 79 Cookbook – I have yet to sample any of the recipes in this cookbook, but have spent enough time drooling over it to vouch that anyone who loves to cook would be excited to open up this gift. It is a gorgeous, full color, hard cover cookbook with recipes from the chefs of the top vegan restaurant, Candle 79. The recipes have a gourmet flair, but all seem very doable.
More teasers for this cookbook: Home-Style Vegan Pancakes with Blueberry Butter
Quick-Fix Vegan – For the practical person on your list, this is one of those go-to cookbooks for getting a meal on the go in minutes. Robin Robertson is the queen of fast and easy recipes, and her latest cookbook showcases her skills wonderfully. This is a neat, tidy, and well-organized cookbook that is sure to get use on busy days.
More teasers for this cookbook: Quick Fix Cooking Tips plus Vegan Coconut Curry Chickpeas and Cauliflower
Vegan Desserts – Author Hannah Kaminsky displayed her baking talents in her first cookbook, My Sweet Vegan, and she continues with more creativity in her latest offering. Hannah is well-known for going above and beyond in the craft of desserts, and her cookbooks will be a big hit with any home baker who craves some unique recipe ideas and a little bit of flavor adventure. I wouldn't call this cookbook a "staple," but rather a gift-worthy indulgence.
More teasers for this cookbook: Chocolate Peanut Butter Thumbprint Macaroons
Article by Alisa Fleming, founder of GoDairyFree.org and author of Go Dairy Free: The Guide and Cookbook for Milk Allergies, Lactose Intolerance, and Casein-Free Living. Alisa is also a freelance writer for several publications, with an emphasis on creating recipes for various types of special diets.