Wayne Nelson, The Cook's Kitchen – I'm not much of a world traveler in the physical sense, so an easy way for me to connect with other cultures and far off countries is through their regional foods. It's really the techniques and seasonings that I love to learn about. But it's tasting that ties everything together. My latest journey to re-discovery has been saffron. It started with the unexpected gift of some wonderful red threads. More than I had ever had in my hand.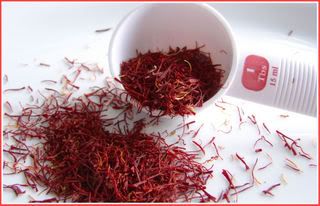 The mere appearance and aroma of saffron telegraphs richness like no other spice can. I had purchased small quantities of threads but for some reason or another have always used saffron powder. A dish like a Spanish paella, a bouillabaisse from Marseilles or breads from India all take advantage of saffron's distinctive color and delicate flavor. There is no substitute.
Now that I had plenty to explore with, the adventure began. The first thing I learned was about infusing crumbled threads in a liquid. Water, wine, sherry or stock were the recommendations to make a "saffron tea" which is allowed to steep for 20 or 30 minutes to get full benefit from the flavor. Warming the liquid helps. The tea is then added to the dish. I had never done that before because when using the more familiar powder, the infusion process is not necessary. Now that I can clearly see that each form behaves differently, I'm really looking forward to experimenting.
Saffron comes from the red colored stigmas of the crocus flower which are picked by hand during the fall in Spain, Greece, India and Iran (which is the largest producing country). Like any delicate cash crop, weather, soil, harvesting and processing have a great influence on the finished product. There are a series of middle-men, importers and distributors between the farmer and the consumer. A very complex system of grading and coloring is used side-by-side with laboratory reports so buyers and educated consumers can determine quality saffron from inferior saffron.
The funny thing, there seems to be considerable debate amongst connoisseurs on which variables and what information should be used to determine quality and price. Now I can see why it is often called "the most expensive spice on the planet". Although research confirms this statement the cost per use is actually quite low. This is because it does not take very much saffron when cooking. Bouillabaisse for 8 may only require a ¼ teaspoon of threads. A pot of rice needs only a pinch which is about 20 average threads. This puts the cost in the neighborhood of a dollar or three per meal so let's just say that finding an acceptable balance between price and value is up to the consumer. I can see I'm going to have some fun with this one.
Saffron Rice (Vegan, Gluten-Free, Nut-Free)
Ingredients:
2 cups uncooked basmati rice
3/4 teaspoon crushed saffron threads
4 tablespoons (1/4 cup) margarine or butter alternative
6 whole cardamom seeds
4 whole cloves
3 cinnamon sticks
1 onion, chopped
3 cups vegetable broth
1 teaspoon sea salt
Directions:
Cover the rice with cold water and set aside to soak for 30 minutes.
Place the saffron threads in 2 tablespoons boiling water, and allow them to soak for 20-30 minutes while the rice is soaking.
Melt the butter alternative in a large saucepan over medium heat. Add cardamom, cloves and cinnamon and fry 2 minutes, stirring occasionally. Stir in onion and saute, stirring occasionally, until golden brown. Stir in the rice, reduce heat to low, and simmer for 5 minutes, stirring constantly.
In another pan, bring the vegetable broth to a boil, and pour it over the rice mixutre. Stir in the salt and saffron.
Cover and cook until rice is cooked and all liquid is absorbed, about 40 minutes.