Bold Organics was the only dairy-free, gluten-free frozen pizza product line in the U.S. that wasn't strictly vegan. It seems that niche didn't have enough demand, because they folded. For other options that are currently available, see our Dairy-Free Frozen Pizza Guide.
There is a new convenience food in town, and I just might have to label it the best new dairy-free product of the year. I realize that we have many days in the year left for competition to sprout up, but these Bold Organics dairy-free, gluten-free frozen pizzas are amazing!
Bold Organics sent us a preview of their new line of frozen pizzas, which are now popping up in freezer aisles across the U.S., and little did we realize how good their timing was for our household. A week after they arrived, our doctor recommended a gluten-free diet for my husband, Tony.
Though I'm pretty familiar with cooking and baking gluten-free, these pizzas turned out to be a godsend, filling in on nights when I just didn't have the energy to cook.
These Bold Organics Frozen Pizzas are just darn good whether you are gluten-free or not! These were Tony's exact words (keeping in mind that he had eaten a gluten-filled crust just two weeks before, so his taste buds still had memories of "normal" pizza):
"I think it's pretty good! It really didn't taste like it was gluten-free or dairy-free, and the crust tasted great for a gluten-free crust."
Pros: Bold Organics Gluten-Free, Dairy-Free Pizzas
Now, let's run through the positive aspects (in our opinions) of this dairy-free, gluten-free frozen pizza product line:
Something for Everyone: They offer four varieties, Vegan Cheese (pictured below), Veggie Lovers (also vegan, but with vegetable toppings), Meat Lovers, Deluxe (with meat and vegetable). We loved them all! I wouldn't venture to pick a favorite personally, but of course, Tony loved the Meat Lovers best.
Made with Organic Ingredients: If you are looking for a "green" dairy-free pizza, this is the closest you will find. Yes, they even use organic pepperoni and sausage!! How often is it that you can enjoy a frozen pizza that actually has nutritional value? Two thumbs up from us in the healthy convenience category.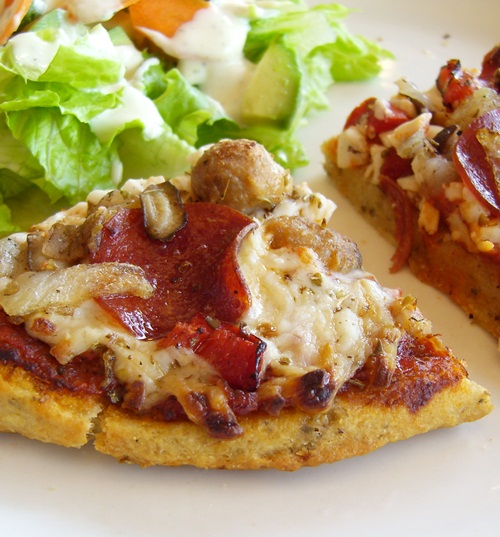 Amazing Taste: The quality of the ingredients shines through in the flavors and textures. We had nothing to complain about in the taste department, and loved every bite. The crust was thin, but not too thin, had a wonderfully "normal" texture with the perfect crisp and chew. The vegetables used were cut large enough that you could actually taste them. The Meat Lover's and Deluxe have slightly spicy sausage and pepperoni that doesn't taste very hot as you eat it, but leaves that spicy tingling in your mouth afterward. Truly delicious.
No Skimping: I won't name names, but some of the dairy-free frozen pizza options are a bit skimpy with the good stuff. Not Bold Organics. They give a fair amount of toppings for the perfect ratio of all ingredients. What you see on the box is what you actually get!!
Convenient: No special instructions, just freezer to oven like any other frozen pizza. They recommend not microwaving it, but I hope you weren't microwaving frozen pizzas before either! It includes instructions for conventional ovens, convection ovens, and toaster ovens. All will magically bake up dinner in 20 to 25 minutes with no hassle at all.
Cons: Bold Organics Gluten-Free, Dairy-Free Pizzas
To be fair, we did see a little room for improvement:
The "Cheese" Needs to be On Top: The toppings often cooked and started to burn while the cheese underneath wasn't melted and sometimes was still cool. To remedy this, I actually pulled the pizzas from the oven at 10 minutes (when they were defrosted but not fully cooked), and slipped the toppings underneath the cheese alternative. This worked like a charm! The cheese melted nicely during the 2 minute broil at the end without burning the toppings. It would be great if they could make them that way!
Quality Doesn't Come Cheap: You get what you pay for. These pizzas do retail at a couple bucks more than you might expect, but honestly (and this is coming from a very value-oriented tight wad), I plan to splurge on these pizzas once in a while.
Serving Sizes aren't Huge: Though the pizza serves 2, there were days when either Tony or I could have polished off the pizza. Tony said he would love it if they do the crust a bit thinner to widen the pizza. Then there could be more toppings too. Nonetheless, to make a complete meal for two, I added a salad. It was perfect then!
Not for Soy-Free Consumers: I don't eat soy often, but have no problem with enjoying a little organic or Non-GMO tofu once in a while, and the dairy-free soy cheese alternative works really well on these pizzas, but is unfortunately not going to work for those with soy allergies (They use Follow Your Heart non-GMO soy-based cheese alternative). The good news is, this really is a whole food pizza, so there aren't any hidden strange ingredients!
Update – They Now Have "Traditional" Pizzas, Too: Only the Gluten-free line is dairy-free. Bold Organics Frozen Pizzas now come in regular wheat AND cheese based varieties. So stick with the gluten-free, dairy-free ones!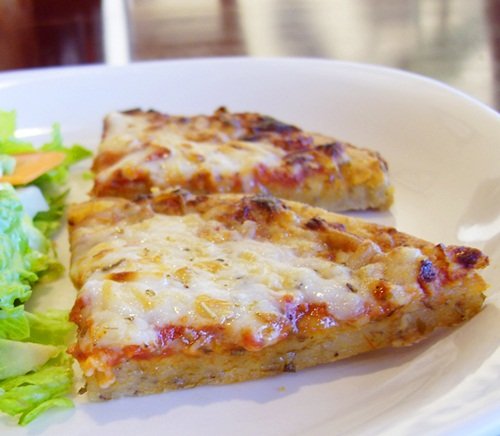 The Facts on Bold Organics Gluten-Free Dairy-Free Frozen Pizzas
Certifications: Bold Organics gluten-free dairy-free pizzas are Non-GMO Verified.
Dietary Notes: By ingredients, the Bold Organics gluten-free dairy-free pizzas are dairy-free / non-dairy, egg-free, gluten-free, nut-free, and peanut-free. Select varieties are also vegan and vegtarian. See the packaging for allergen and manufacturing "may contain" labeling, and contact the manufacturer when severe food allergies are of concern.
For More Product Information: Visit the Bold Organics website at bold-organics.com.