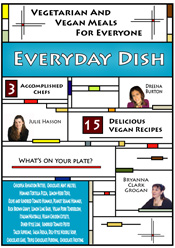 By Hannah Kaminsky, My Sweet Vegan – With the exception of Isa Chandra Moskowitz and her groundbreaking [albeit brief]tv series, the Post Punk Kitchen, vegan chefs have never before graced any sort of cooking videos. However, as veganism moves more into the mainstream and animal-friendly blogs steal the spotlight more often, it only makes sense that this new awareness would yield some wonderful new revelations, like the brand new DVD, Everyday Dish.
Featuring three knowledgeable and acclaimed prodigies of vegan cookery, namely Dreena Burton, Julie Hasson,, and Bryanna Clark Grogan, enacting a total of 15 original dishes, these are 120 minutes of instruction that no one should miss. Each cook already has numerous books to their credit that include quality recipes, helping both those already adhering to a vegan diet to diversify their repertoire, just as much as those curious about what life might be like without meat. Appealing to a wide audience with family- and child-friendly foods, everyone could benefit from the lessons offered in wide-screen format.
What puts this particular disk a notch above the rest is the wonderfully convenient additional features, like the ability to use it like a CD ROM and print out instructions to every recipe. To sweeten the deal even more, there are bonus recipes only accessible via computer, so you will have no shortage of new dishes to try. Ranging from savory meat-replacements to decadent chocolate cake, there is sure to be something for everyone here, vegan or not.
Hannah Kaminsky is the author of the indulgent dessert cookbook, My Sweet Vegan. She also keeps a personal blog of crafts, baking and photography at Bittersweet Blog.