Alisa Fleming ~ To complete their trilogy of cute, square little dessert cookbooks, Isa Chandra Moskowitz and Terry Hope Romero recently released Vegan Pie in the Sky. If you know someone who is new to the vegan or dairy-free & egg-free diet, then a "box set" including Vegan Pie in the Sky, Vegan Cupcakes Take Over the World, and Vegan Cookies Invade Your Cookie Jar would be the sweetest gift.
But back to the pie cookbook … it starts with a helpful introduction called "How to create the universe or bake a pie from scratch." This is a helpful little 25 page section that gets right to the point with how to's and tips, written in the author's voices (if you have any prior books from these ladies then you know that they are quite witty to say the least!). I especially loved the How to Spy a Pie page that explains the difference between a betty, buckle, cobbler, crisp, galette, hand pie, pie, and pandowdy (?). I obviously needed a little education on this topic!
The rest of the book is all recipes, broken down into the following chapters: Pie Crusts, Fruit Pies, Creamy Pies, Harvest Pies, Chocolate Pies, A Few Toppings. Since I know how much we all like visuals, here's a sampling in pictures of the types of recipes that you will find inside:
Blueberry Bliss Cheesecake
Maple Pecan Pie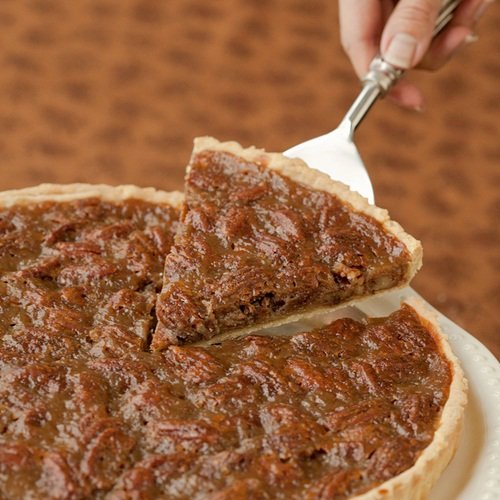 Old Fashioned Choclate Pudding Pie
Some other recipes in Vegan Pie in the Sky that caught my eye included the following:
Blueberry Ginger Hand Pies with Lemon Glaze
Salted Pecan Caramel Pie
Coconut Cream Pie
French Toast Apple Cobbler
Chocolate Peanut Butter Tartlets
To note, for those with special diet concerns, since this is a vegan cookbook, it is 100% dairy-free and egg-free. All of the crust recipes and crumbly-type toppings appeared to contain gluten, so I recommend this book for filling ideas only if you are gluten-free. Also, I spotted many reviews on this book regarding nuts. Most of the "creamy" recipes use cashews (lots of soy-free options!) and several other recipes use nuts, so keep this in mind if you are dealing with any type of nut allergies.
Bottom Line: At the price point, this is an adorable, fun, and tasty cookbook to treat anyone too. If you are the home chef, gift it to yourself and churn out delicious vegan pies for friends and loved ones!
Where to Purchase: Vegan Pie in the Sky is available to purchase on Amazon, along with the other delicious titles from the best-selling vegan authors, Isa Chandra Moskowitz & Terry Hope Romero.
This is a third party review by Alisa Fleming, founder of GoDairyFree.org and author of Go Dairy Free: The Guide and Cookbook for Milk Allergies, Lactose Intolerance, and Casein-Free Living. Alisa is also a freelance writer for several publications, with an emphasis on creating recipes for various types of special diets.