Hemp Ice Cream just hasn't gained traction over the years. Tempt was the only one that had some staying power, but it was discontinued. For other options, see our Dairy-Free Ice Cream Reviews.
Ah, the things I do to taste the latest dairy-free foods. Cooler box packed into the car, we headed down to Reno, and the nearest Whole Foods. Of course, the trip to a town that is 45 minutes (and an "over-the-mountain" trip) away was about more than Whole Foods, we had errands to run. But I never pass up the chance to stop in to buy a few things since we visit less than once a month.
On this trip, I opted to pick up some hemp-based ice cream called Tempt (from Living Harvest). I was leary when I first heard about it, but it seems to be getting rave reviews, even from dairy-consuming columnists. We decided to get two pints, and I let my husband pick. He chose Mint-Chip (yes!) and Chocolate Fudge (Really? Are you sure you don't want the Vanilla Bean?).
After silently whining about his choice for a few minutes, I realized I could dress up the Chocolate Fudge ice cream with … hmmm, some peanut butter perhaps? As it turned out, this stuff tastes pretty awesome, so I really didn't need a topping. It has a rich fudgsicle flavor with a pleasant chocolate fudge ribbon throughout. Ours did melt slightly in transit, so I think it was more hard packed than a freshly purchased pint. But even so, not the least bit of ice … this stuff was truly dense and rich!
Of course, a hard-shell topping of sweet peanut butter never hurts (I used the Peanut Butter "Chips" recipe in Go Dairy Free), and this combo was magically delicious …
I expected us to both love the Mint Chip flavor (usually one of our favorites), but it just wasn't quite right. It was a bit more ice than cream and the flavor was very (very) minty. It wasn't bad, but just didn't melt nicely onto our taste buds. Since I sensed a vanilla base in the Mint Chip version, I feared that the vanilla would fall to the same fate.
Fortunately, my worries were unjustified. My next trip to Reno and Whole Foods was sans husband, so I popped two new (to me) flavors into the cart, the Vanilla Bean and the Coffee Biscotti.
I recently confessed our guilty love for a certain cheap brand of vanilla … yes, for us it's taste and texture, however processed, still kicked the pants off of store-bought coconut milk ice cream. But fortunately, I think I have found an equally suitable alternative with slightly more virtuous ingredients. And the blessing in disguise part is that it costs more money … so I'm not as likely to buy a pint, or three, of it every week.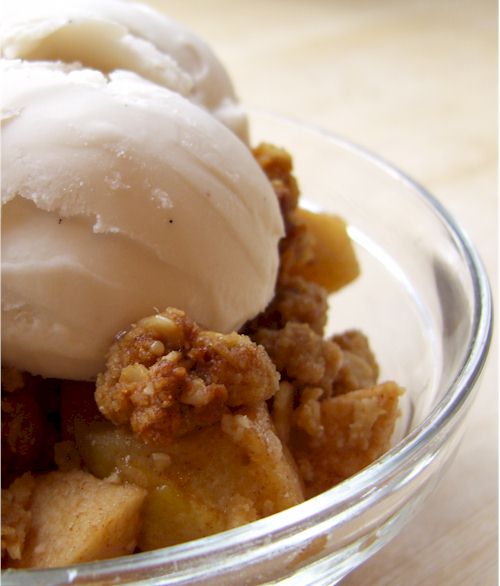 Unlike the Mint Chip, the Vanilla Bean was smooth, creamy, and incredibly rich with vanilla. Even after suffering a drastic melt and refreeze (it's a long drive!), there were no ice crystals, no chunkies … mind you it was hard-packed, and I nearly needed an ice pick to pry some loose, but it still melted like a creamy dream on my tongue. And it was delicious! At least in my opinion … and my husband's. The flavor, not unlike Tofutti, is certainly different from traditional dairy ice cream, but rich and tasty in its own right.
This entire pint serviced a big batch of chunky apple crisp (based on my Crumbly Maple Apple Crisp) that I made to use up some nearly expired granny smiths.
As for the Coffee Biscotti Tempt … it is strictly for coffee fans. I really do not like the taste of coffee (yep, seriously), but some of those mocha-ish "ice creams" that are labeled as coffee make the grade. This wasn't a mocha, it was a true coffee flavor (hence the name "coffee" instead of "mocha" – but sometimes I'm a bit slow) with (gluten-free) cookie-like chocolate chunks throughout. Perfect for all of you recovering Starbucks-aholics, but not for these herbal tea taste buds.
The only other current flavor of Tempt is Coconut Lime – but I haven't been able to bring myself to buy it. I love coconut, but am seriously on burn-out from the very concept of coconut ice cream!
To note, taste-wise, I'm not a fan of agave nectar and neither is my husband, which could be one of the reasons the coconut milk ice cream isn't our cup of tea (all major brands seem to be sweetened with agave). Tempt is sweetened with organic sugar. This to me, just fits better.
Article and photos by Alisa Fleming, founder of GoDairyFree.org and author of Go Dairy Free: The Guide & Cookbook. This is a third party review. For more information on this vegan ice cream, visit the Living Harvest website.