I actually spotted this brand a couple of years ago in Canada. I wasn't able to pick up any at the time, but hoped that it would find its way to the U.S. at some time … and that time has finally arrived. While shopping at our local co-op a few weeks ago, I spotted some rather attractive cartons of Almond Fresh from Earth's Own. I don't know about you, but I get a bit giddy whenever I see a new dairy-free product right in my local stores.
Unfortunately, they only carried the more popular lightly sweetened versions. I'm one of the weirdos who only purchases unsweetened versions of dairy-free milk alternatives. I like the versatility a blank flavor slate for cooking and baking, and the option to go completely sugar-free if desired. So I got in touch with the company, and they sent me their two unsweetened varieties to taste test for Go Dairy Free:
Ryza Whole Grain Brown Rice Beverage from Earth's Own
Like many rice milks, Ryza has no added sugars because the brown rice itself contributes quite a bit of sugar (I'm assuming it is akin to how the sweetener brown rice syrup is produced). So this non-dairy product isn't sugar-free by any means, but like dairy milk, it has no added sweeteners, just the sugars from the base ingredient.
Earth's Own sent me the Vanilla Ryza variety (it comes in plain or vanilla), which smelled AMAZING! I seriously couldn't get enough of that wonderful scent in my morning smoothies. When tasted alone, the flavor alternated from sweet to that distinctive savory-bitterness of brown rice. It had the earthy, natural vibe that makes me feel so addicted to brown rice in general. Due to the natural sweetness, I wouldn't hesitate to use this version in sweet recipes, but also think the plain variety would probably be wonderful in savory dishes.
Unlike many rice milk brands I have seen, Ryza was thinner and almost a touch transparent in its beautiful hue. It definitely requires a good amount of shaking before using (as do many rice milks), but don't expect it to become thick or milky white. It's just rich enough, but more like a skim or light dairy milk in fluidity and appearance.
Ryza is vegan, gluten-free, dairy-free, and soy-free (though it may be made on equipment that uses soy). For more information, nutritionals, etc., they have a specific website for Ryza at www.ryza.ca.
Almond Fresh Milk Alternative from Earth's Own
Wow, this brand truly tasted like pure soaked almonds! Almond Fresh Unsweetened has a very savory flavor; in fact, I think it could hold up nicely in some hearty meal recipes (flavor dependent of course) as I didn't detect any sweet almond notes. Almond Fresh was also a lighter milk alternative, requiring some shaking before each use (like most almond milks, some does settle and can be stubborn), but also maintaining a high level of fluidity. Like most almond milks, it was creamier than rice milk, and able to add a touch of richness to recipes, much like 2% milk.
The unsweetened Almond Fresh is relatively new to the market, which is apparently why I hadn't yet seen it locally. But I was told that Whole Foods already has it in stock, and surely it will roll out to other stores with time.
Almond Fresh is vegan, gluten-free, dairy-free, and soy-free (though it may be made on equipment that uses soy). For more information, nutritionals, etc., they have a specific website for Almond Fresh at www.almond-fresh.com.
My husband downed the entire half gallon of Ryza before I could even think of a recipe to test. He really enjoyed it in his morning coffee, and also in some protein shakes. However, I managed to sneak in one experiment with the Almond Fresh, a Pear Almond Smoothie. To my surprise, the flavor combination was perfectly sweet, and by using a ripe pear along with creamy almond butter and frozen banana, the resultant texture was smooth and creamy.
Enjoy it here: Pear Almond Power Smoothie Recipe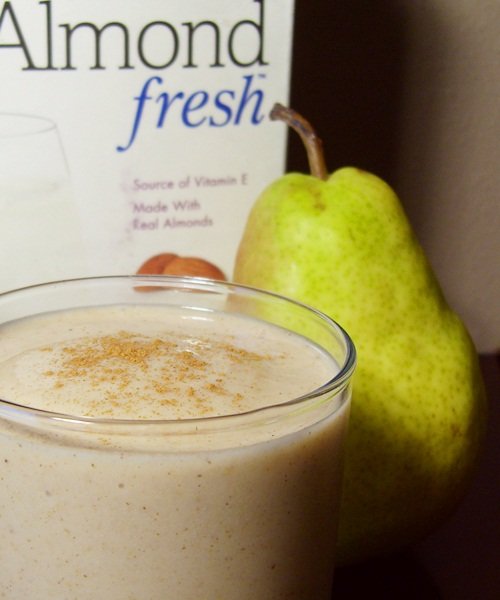 For more information on the company and all of the Earth's Own products, see their website at www.earthsown.com.