I'm working on creating photos for the recipes in my book, Go Dairy Free, and this week decided to make the Condensed Creme of Mushroom Soup in honor of the holidays. This recipe is amazingly dairy-free, vegan, soy-free, nut-free, optionally gluten-free, AND low fat! Heck, you can even make it organic if you wish. Most recipes for condensed creme (or cream) of mushroom soup use loads of butter or margarine – totally unnecessary, and quite frankly, not as "authentically" Campbell's. The time-tested that recipe that I have created for Go Dairy Free will amaze you and slide right in as a perfect substitute for the overly-processed canned version.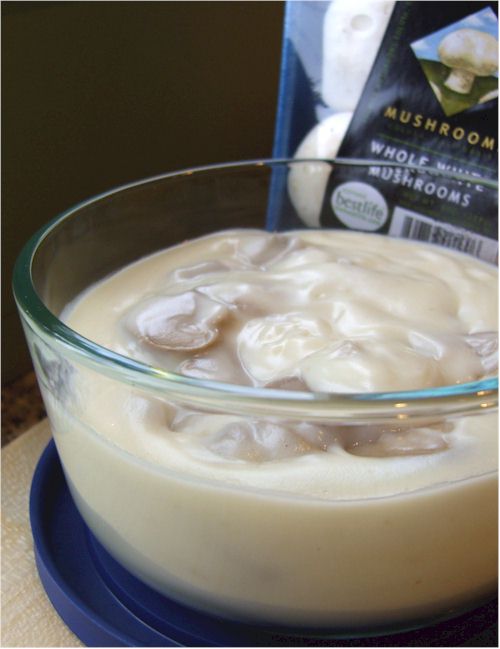 This was my first full-fledged attempt at doing step-by-step photos. The interesting thing is, there really weren't that many steps to capture. This is a surprisingly simple recipe. It is one that you can whip up within 15 minutes, and all while you are preparing other Thanksgiving goodies. Yes, if I didn't get you at dairy-free or low fat, perhaps "fast & easy" will win you over.
The recipe for this "Almost Campbell's" Condensed Creme of Mushroom Soup is on p182 of Go Dairy Free: The Guide and Cookbook. If you don't have the book and need this recipe in a jiffy, you can also get an ebook version instantly. Just see the Where to Purchase page for links to the iPad, Kindle, PDF, and Kobo versions, in addition to where you can buy physical copies.
Now, onto those photos …
Step 1: Throw all ingredients, except for the mushrooms, into a medium-sized pot.
Step 2: Whisk the ingredients together until smooth. I used extra-virgin olive oil in this batch, since it is what I had and since you are heating this on a fairly low temperature. The oil made it a bit of a yellowy color at first, but don't worry, that will fade.
Step 3: Whisk in the mushrooms. To keep it more "authentic" I used canned mushrooms, but you can always pre-cook and drain some fresh mushrooms if preferred.
Step 4: Whisk while stirring over medium-low heat. At this point I realized my silicon whisk was way too big for the pot, so I switched to a simple metal whisk.
Step 5: For the first 5 to 10 minutes you can just check in and whisk occasionally, but as it begins to emulsify and thicken, you will want to be a bit more attentive.
Step 6: When the condensed soup becomes nice and thick – some good signs include once it is the texture of the canned version, if it clings nicely to your whisk, and if it is thick enough that the swirls from your whisk remain – remove it from the heat. It may thicken a touch more once removed too.
Step 7: Use immediately, or place it in an airtight container to store in the refrigerator until ready to use. It should keep for a couple of days in the refrigerator. It works great as a direct substitute for the Campbell's version in recipes, and it actually makes a nice, silky and rich soup too. Just add water and reheat for 2 to 3 tasty bowls.
Enjoy the recipe!