Molasses, Miso, and Maple Candied Sweet Potatoes
Alisa Fleming ~ My admiration of Bryant Terry's first vegan cookbook, Vegan Soul Kitchen, is well detailed in a prior review. Left wanting for more, I'm eager to share the release of his latest cookbook, The Inspired Vegan: Seasonal Ingredients, Creative Recipes, Mouthwatering Menus. Bryant's passion for good food spills over into this second collection where flavorful recipes are interspersed with storytelling, music, and art.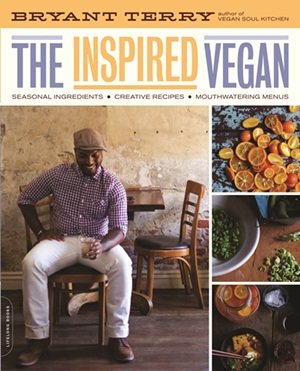 The following vegan sweet potato recipe is a sample from The Inspired Vegan that highlights one of my favorite foods, the sweet potato. Prepared with fresh flavors, this filling side dish can be enjoyed any time of year, but is particularly fitting for this time of year, when the temperatures are still cool, but we are mentally preparing for spring. And though this may be planning ahead a bit, I wouldn't hesitate to pin or tag this recipe as a possibility for your holiday table around Easter or Thanksgiving …
To note, one of Bryant's signatures is to make each recipe "an experience." He typically pairs them with music and in this case a book too. For the vegan sweet potato recipe below, he recommends the Soundtrack, "Revolution" by Nina Simone from Protest Anthology, and the Book, Conversations in Maine: Exploring our Nation's Future by James Boggs and Grace Lee Boggs.
Molasses, Miso, and Maple Candied Sweet Potatoes
From the book The Inspired Vegan by Bryant Terry. Excerpted by arrangement with Da Capo Lifelong, a member of the Perseus Books Group. Copyright © 2012. www.dacapopresscookbooks.com
Ingredients
2 1/2 Pounds Sweet Potatoes or Garnet Yams, peeled and cut into 1/2–inch rounds
2 Tablespoons Toasted Sesame Oil
1 (2-inch) Cinnamon Stick
2 Tablespoons Molasses
1 Teaspoon Tamari or Shoyu Soy Sauce [use wheat-free tamari for gluten-free]
2 Tablespoons Pure Maple Syrup
1 Heaping Tablespoon White or Yellow Miso
1/4 Cup Freshly Squeezed Orange Juice
1 Tablespoon Freshly Squeezed Lemon Juice
1/4 Teaspoon Grated Lemon Zest
6 Tablespoons Filtered Water
Instructions
Preheat the oven to 425°F.
In a large bowl, toss the sweet potatoes with 1 tablespoon of the sesame oil.
Spread the sweet potatoes on a parchment-lined or well-greased baking sheet in a single layer and roast for 50 minutes, turning over with a fork after 25 minutes.
Remove the sweet potatoes from the oven and lower the heat to 375°F.
Place the cinnamon stick at the bottom of a 2-quart baking dish, and add the sweet potatoes in layers. Set aside.
In a medium-size bowl, whisk together the molasses, tamari, maple syrup, miso, orange juice, lemon juice, lemon zest, water, and the remaining tablespoon of sesame oil. Pour over the sweet potatoes.
Bake, uncovered, for 30 minutes, thoroughly basting the sweet potatoes every 10 minutes.
Notes
Diet type: Vegan, Vegetarian, Dairy free, Egg free, Gluten free, Nut free, Peanut free, Wheat free
http://www.godairyfree.org/recipes/molasses-miso-maple-candied-sweet-potato
Copyright Fleming Marrs Inc. ~ www.GoDairyFree.org

Tagged Christmas, egg--free, gluten free, grain-free, nut-free, peanut-free, Thanksgiving, vegan, vegetarian, winter