jae steele, Domestic Affair – Flaxseed oil is an amazing and important source of the essential fatty acid (EFA) omega-3, which has preventative and healing anti-inflammatory properties. It has been shown to be very useful for respiratory conditions (asthama), joint problems (arthritis), skin problems (eczema), mental health and so much more.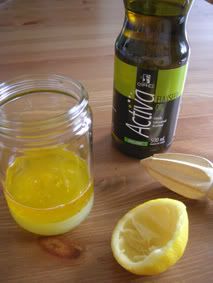 Don't bother with flax oil capsules, use it as a food!  Here's what you have to remember about flaxseed oil:
Always keep it in the fridge and use within 4 weeks of opening to avoid rancidity. This may mean only buying small bottles or keeping half of a large bottle in your freezer till you use up the first half. When it's gone off it will take like the smell of paint – throw it out.
Never cook with it as it is unstable at high temperatures and becomes worse for you than a transfat! Make salad dressings with it, drizzle it on cooked or raw vegetables or whole grains and legumes.
Consume 1-2 tbsp. a day – usually more than that is unnecessary.
Special Diet Notes: Simplest Salad Dressing
By ingredients, this recipe is dairy-free / non-dairy, egg-free, gluten-free, grain-free, nut-free, peanut-free, soy-free, vegan, plant-based, vegetarian, and paleo-friendly.

Simplest Salad Dressing
Ingredients
½ cup flaxseed oil
juice of half a lemon (about ¼ cup or a little less)
1 clove garlic, grated
1 teaspoon grainy mustard (optional)
½ tsp. sea salt
freshly ground pepper
Instructions
Shake everything up in a glass jar with a good lid. Serve over salad.