Hain Celestial discontinued all of their dairy-free yogurt products, including Almond Dream Non-Dairy Yogurt. However, they still make Almond Dream Ice Cream. For more yogurt options that are currently available, see our Dairy-Free Yogurt Reviews.
I've taste-tested quite a few dairy-free yogurts, I'd even venture to say that I've trialed most, if not all, that the market has to offer. Many are good, but I can honestly say that Almond Dream Almond Non-Dairy Yogurt is quite delicious.
Back in the "dairy days" I dutiful downed the most popular brand of yogurt in the name of calcium consumption. I didn't love it, and in fact have shied away from non-dairy yogurts aside from reviews and the occasional recipe. But, all that changed, as I found myself at the local co-op requesting a stock-up of Vanilla Almond Dream.
Tasting Notes for Almond Dream Non-Dairy Yogurt
In my opinion, this dairy-free yogurt has a perfectly creamy texture, with a very fresh taste and subtle hints of almond. I also love that it is soy-free, gluten-free, and of course dairy-free (yes, it is vegan too!), and that it has 8 different strains of tummy-taming probiotics!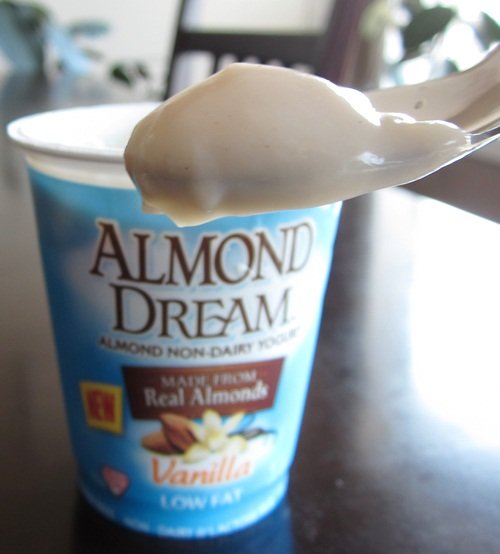 As for the flavors, Almond Dream Almond Non-Dairy Yogurt comes in five varieties: Plain, Vanilla, Strawberry, Mixed Berry, and Coconut. I tried the first three as single serves, and later purchased the Coconut. As you may have guessed, the Vanilla was my favorite, but the Coconut came in at a close second.
Plain
This variety was surprisingly excellent; it is slightly lower in sugars than the others, and has a nice, relatively neutral flavor that should work very well in recipes. It has only a touch of tang, which I think makes it more versatile than traditional yogurt.
Vanilla
The Vanilla simply stepped it up a notch flavor. It became my lightly-sweet, post-dinner dessert, topped with pomegranate arils, berries, or even dairy-free chocolate chips.
Strawberry
The Strawberry had little chunks of fresh berries within, and shared the sweetness of the Vanilla, but with a bright strawberry flavor. It was delicious as well, but I'm a vanilla girl at heart.
Coconut
The Coconut has the delightful sweetness of the Vanilla but with a notable coconut flavor and random little shreds of unsweetened coconut throughout – a smattering really.
I later tried the Vanilla (still my favorite), Strawberry and also the Mixed Berry almond non-dairy yogurt in Almond Dream's newer 24-ounce multi-serve packages! The consistency of the quarts was a touch more gelatinous than the creamy single-serves, which I found slightly unappealing, but sweet, delicious and smooth nonetheless. I'm not sure if it was a random batch issue or just different production with the multi-serve, as I later purchased a single-serve and the consistency was more creamy as I remembered.
Mixed Berry
The sweetest of the bunch – richly flavored and dessert-like in nature. My husband adored it, and happily polished off the entire quart in just a two days! Though higher in sugar than I like to see for everyday eats, if it gets him to consume some probiotics (which he definitely needs) then I am happy. We both enjoyed it with plump fresh blueberries…
There are a few other great qualities about Almond Dream Almond Non-Dairy Yogurt that I would like to note:
Low Fat – Though made with almonds, each serving contains just 2.5 to 3 grams of fat, and no saturated or trans fats (note that the serving size on the quarts is 1 cup vs a little over 2/3 cup in the single-serve).
Calcium – The yogurts are fortified with 20% (200mg) of the RDA for Calcium.
Non-GMO – It is made with real almonds and no genetically engineered ingredients.
Fiber – They are considered a good source of fiber, with 3 grams per serving.
Live & Active Cultures – I mentioned the probiotic benefit above, but thought I would let you know that the probiotic bacterium in Almond Dream Yogurt includes all of the following: L. Acidophilus, P. Lactis, S. Thermophilus, Bifidobacterium Lactis, L. Acidophilus, L. Casei [note that this is a bacteria; it is not associated with the milk protein casein], L. Rhamnosus, L. Delbrueckii Lactis & Bulgaricus.
Almond Dream Almond Non-Dairy Yogurt is popping up on store shelves throughout the U.S., and you should even be able to find it at many conventional grocers as the distribution increases. If you don't see it yet, you can ask the store to bring some in.
The Facts on Almond Dream Almond Non-Dairy Yogurt
Certifications: Almond Dream Almond Non-Dairy Yogurt is Certified Kosher Dairy (it doesn't contain dairy ingredients, but must be made on equipment that processes dairy). It is labeled as gluten-free, but we didn't note a certification.
Dietary Notes: By ingredients, Almond Dream Almond Non-Dairy Yogurt is dairy-free / non-dairy, egg-free, gluten-free, peanut-free, soy-free, vegan, and vegetarian. Nonetheless, check with the company on their manufacturing processes for all varieties if potential allergen cross-contamination is an issue for you. Processes and labeling are subject to change at any time for any company / product.
For More Product Information: Visit the Dream Brand website at www.tastethedream.com.
4.5 out of 5 stars (based on 2 reviews)
I love these yougerts
Please tell me where I might purchase these yougerts . I no longer can find them anywhere. I used to buy them by the case please start selling them again please? Thank you
Response from Go Dairy Free
As noted, they are discontinued.
Sweet, dessert-like yogurt
This sweet, dessert-like yogurt has a smooth, thick consistency that mimics dairy yogurt nicely, but without the strong telltale tang. Vanilla is my favorite, but the Coconut was also delightful, and the Plain offers more versatility. My husband liked the very sweet Berry flavors. We knocked it down a star as there seems to be some inconsistency in texture. Sometimes the yogurt was perfectly creamy, while other times it was too gelatinous.