A few weeks ago, I shared a Cold Brew Snickerdoodle Latte Recipe to enjoy warm or chilled. Nothing compares to homemade Cold Brew – it's so easy and fresh-tasting. But sometimes you need that coffee drink right now. Enter these cool, creamy dairy-free coffee drinks with grab and go convenience.
Dairy-Free Coffee Drinks for On The Go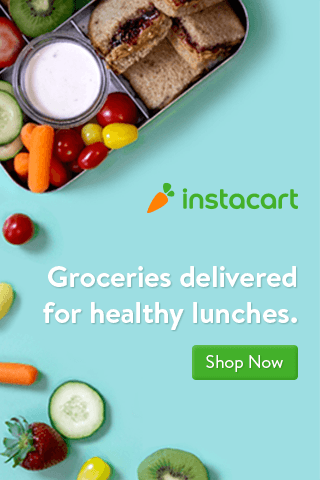 All of the following are creamy blends that are available pre-bottled. At last check, they were dairy-free by ingredients, but always double check the label. Ingredients and processes are subject to change at anytime. Cross-contamination (typically a trace amount) with an allergen, like milk, is always a possibility in any manufacturing environment. Contact the manufacturer to discuss their processes if potential cross-contamination is a concern for you.
The list and details below are for informational purposes only. These are not specific recommendations. Please do comment and let us know your favorite dairy-free coffee drinks!
They're already well known for their tea latte concentrates, but Bhakti now has single-served Iced Chai drinks for tea and coffee lovers. It comes in three black tea varieties (Classic, Reduced Sugar Classic, and Sugar Free Toasted Coconut) two java versions (Cold Brew Coffee and Mocha). Each flavor is made with their fresh-pressed ginger chai (it's potent!) and blended with Elmhurst cashewmilk. It is "best refrigerated," which I assume to mean it is shelf-stable, but should be chilled for the optimal taste experience. You can find it at grocers and cafes across the U.S. and online via Amazon.
We announced the impending release of these last year, and they've finally landed. These coffee smoothies come in Vanilla Honey and Dark Chocolate, and are made with Starbucks coffee, almond milk, pea protein, and banana puree. Both flavors are sweetened with honey, so they aren't strictly vegan. I believe these are sold as shelf-stable, but you might want to chill them before drinking. These dairy-free coffee drinks are available from grocers across the U.S. and via Amazon, but I've been told that they are not sold in Starbucks shops. I'm not sure if these are available outside of the U.S. Please do comment if you've found them in another country!

This popular Swedish oat-milk brand has announced the launch of three blended, single-serve beverages: Cold Brew Latte, Mocha Latte, and Matcha Latte. According to the Oatly team, "It's only available in Europe for now, but we hope to bring some more fun, oatsome things to the USA soon!" All Oatly products are dairy-free, plant-based, and vegan-friendly.
These refrigerated vegan single serves win the award for having the most varieties. At last check, you could get them in XX Espresso, Salted Caramel, Black & White, Full Shot, Triple Shot, and Cocoa Noir. All have the creamy touch of Califia Almondmilk and some are further enriched with coconut cream. Califia's single serve cold brews are sold in grocers throughout the U.S. and the U.K., and you can buy them online from stores like Amazon.
These almond milk lattes come in a flavorful line-up, but we honed in on the Creamy Cold Brew Coffee made with organic coffee. For a lighter caffeine jolt, they also have a Matcha Green Tea Latte. All are made simply with organic almonds, organic dates, and Himalayan pink sea salt. They have no added sugars!
Rise makes milk-based drinks, too, but this oat milk latte is a delicious dairy-free option. It's also certified organic.
These cold brews have a completely unique twist. Each one is nitrogen-infused and bottled for a micro-foam experience. You can read what we thought here. They're available chilled in Mocha, Latte, and New Orleans, and all three boast a creamy blend of almond milk and macadamia milk. At this time, the Nitro line is sold at both conventional and natural food grocers in the U.S.
REBBL is known for blending pure, creamy coconut milk beverages with adaptogens and "superfoods." And their Cold Brews are no exception. All REBBL products are dairy-free, and these cold brews are also vegan (some of their drinks contain honey). The Reishi Cold Brew boasts organic reishi extract and the Maca Cold Brew contains maca root extract. We have a very detailed review of these elixirs here. REBBL Elixirs are sold refrigerated in natural food stores throughout the U.S.
This Rebel is based in the U.K., but they sell their single-serve Mylks in the U.S., too. These shelf-stable beverages are a rich, pure blend of coconut milk. In fact, the Coffee drink contains just spring water, coconut milk (11%), date nectar, and coffee. The Coffee flavor is available in the U.S. and U.K., and there is a Matcha Green Tea flavor that is also available in the U.K.
OWYN's focus is vegan, allergy-friendly protein. But I can't ignore the fact that one of their ready-to-drink protein drinks happens to be the very popular Cold Brew Coffee. It is more of a creamy protein shake than a straight coffee sip, but you get a good dose of nutrition for the trade off. This is a shelf-stable product that can be found at grocers in the U.S., but is also readily available online via Amazon.
These creamy, cold-pressed coffee drinks are made with cashew milk, and are aptly named Cashew Mocha, Cashew Coffee, Lavender Nutte, Vanilla Nutte, and Cashew Chai. These are very fresh cold brew coffees made with simple ingredients and sweetened with agave nectar. They are sold refrigerated at natural food stores in the U.S. You can read Leah's full review to learn more.
Malk is known for very pure milk beverages, made without any additives. Their cold brew coffee is made with their pecan milk beverage and is the only variety that comes as a single serve. It's sweetened solely with organic maple syrup and can be found chilling in select grocers in the U.S.
Tigernut Horchata is a very creamy, lightly sweet dairy-free milk beverage made from tigernuts. Despite their name, tigernuts are tree nut-free and actually free of top allergens. This coffee beverage is sold refrigerated, and found mostly in natural food grocers in the U.S.
JUS by Julie specializes in cleanses, but their drinks include some creamy dairy-free varieties, like this Java JUS. It's made with just coffee beans, coconut meat, coconut milk, and agave. JUS stores can be found in New York and New Jersey, and they also ship their juice cleanses to customers throughout the U.S.
You can get these dairy-free coffee drinks in two tropically-inspired flavors: Tahitian Vanilla and Kona Mocha. Both are enriched with creamy coconut milk and lightly sweetened with cane sugar. This beverage appears to be shelf stable, and their website leads me to believe that it is available in the U.S. and Canada. But their store locator needs an update! Nonetheless, you can definitely order it from Amazon.
Svelte Protein Shakes tend to be quite smooth and creamy with nice hints of sweetness, so their Cappuccino flavor definitely fits the coffee drink category. And it's soymilk based, so no added protein is needed! Yes, it is made with organic, non-GMO soy. Svelte is shelf-stable and sold at grocers throughout the U.S. and Canada. It's also available to order online from sites like Amazon.
These cold brew masters have a dairy-free coffee drink with cold brew coffee, coconut cream, and natural cane sugar, plain and simple. It's also touted as vegan and sold in old-school cartons in the refrigerated section of large grocers in the U.S., like Whole Foods.
This Grand Rapids-based cold brewery has launched a line of ready-to-drink, dairy-free lattes. They're rolling out in Meijer stores across the Midwest, and hopefully throughout the U.S. at some point. The new single-serve, packaged drinks have a base of handmade cold brew and come in three flavors. Café Miel contains honey, cinnamon and almond milk, Raspberry Hazelnut (vegan) boasts sweet raspberries and hazelnut milk, and Mocha Cashew (vegan) is made with a blend of chocolate and cashew milk. Game on!
Want More Dairy-Free Living Guidance? Get Go Dairy Free: