Alisa Fleming ~ Lulu's Lovepack is an amazing chocolate tasting experience. It contains each of Lulu's perfectly sized 1oz chocolate bars, from the darkest Raw Love to the milkiest Maca Love. There wasn't a single bar that I ate straight through. Instead, I enjoyed nibbles of each bar daily, one after the other.
Raw chocolate tends to be less refined in taste and texture than most of the chocolate bars you will find at the stores (because it is!), but that equates to so many more flavor nuances. The attractiveness and appeal of Lulu's Chocolates (organic, fair trade, and made with high quality ingredients), coupled with the unique varieties, makes it an ultimate gift for pure chocolate fans. Even as a chocolate amateur, I had fun jotting down my own "tasting" notes on each of the six raw, vegan chocolate bars from Lulu's Chocolate …
Raw Love w/ pure vanilla bean (78%) – This was the most "familiar" tasting chocolate bar from Lulu's. I would describe it as pure, slightly earthy, and the closest to a simplistic raw dark chocolate. I simply loved it. Raw Love was one of my favorites in this collection; an ideal pick for true dark chocolate fans.
Sedona Spice with saigon cinnamon & southwest heat (75%) – Sedona Spice is truly dark, but not bitter. Rather, it is what I would describe as a full-bodied chocolate, not unlike a good roasted coffee. Thanks to the cinnamon, this chocolate has a pleasant spice that warms until the mild heat of the chili and white pepper takes over. For some reason, I also detected licorice notes in the background of his chocolate bar, yet there wasn't a bit of anise in the ingredients. Go figure.
Aztec Crunch with raw cacao nibs (75%) – The Aztec bar tasted very deep in flavor, but had slight caramel notes that were wonderfully comforting. It was spiked with a generous amount of crunchy coffee-like bits (otherwise known as cacao beans!). I love the way that Lulu's adds crushed beans and nuts to their bars. The top is smooth, and dons the Lulu's imprint, but flip the bars over, and they are spiked with tasty additions.
Smoked Sea Salt Almond with organic sprouted almonds (70%) – This was my hands-down favorite. The alluring and unique flavor of this chocolate bar was simply AMAZING. The smoked sea salt adds depth to the flavor yet blends perfectly rather than standing out as salt on sweet. Again, flip the bar over and it is littered with almond chunks. Unreal flavor, I couldn't get enough of this one. I would love it with or without the almonds.
Chocolate Maca Chunk (62%) – Lulu's uses maca powder, rather than milk powder to create their version of raw "milk" chocolate bars. Each of the Chocolate Maca Chunk bars contains 5,600mg of maca, and boy is it intense! Somewhat like a caramel coffee liqueur, the maca is a bit strong for me, but I loved the bites that combined the milky maca with the big dark chocolate chunks in this bar. A bar with a layer of milky maca and a full layer of dark chocolate would be sheer bliss in my opinion. Nonetheless, I could see latte lovers going gaga over the unique taste of this bar.
Maca Love (50%) – This is by far the smoothest and milkiest bar in the Lulu's chocolate line-up. It is very rich with a liqueur-like flavor. The maca flavor takes center stage and combines with the coconut sugar for a deep caramel taste. Each bar has 7,500mg of maca … a little much maca for my taste buds, but again, perfect for coffee fans who like a rich cream and caramel flavor with their bean.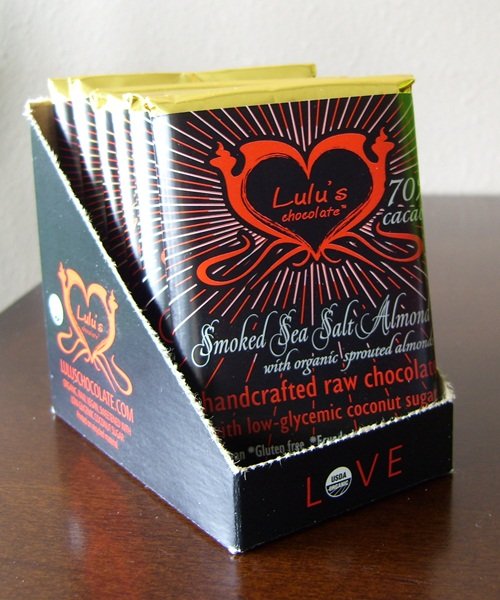 Dietary Notes: All of Lulu's Chocolate bars are Vegan, Dairy-Free, Egg-Free, Gluten-Free, Peanut-Free, Soy-Free, Wheat-Free, and Refined Sugar-Free (sweetened with coconut sugar). For more information, and to purchase Lulu's Raw Vegan Chocolate, visit their website at www.luluschocolate.com.
This is a third party review by Alisa Fleming, founder of GoDairyFree.org and author of Go Dairy Free: The Guide and Cookbook for Milk Allergies, Lactose Intolerance, and Casein-Free Living. Alisa is also a freelance writer for several publications, with an emphasis on creating recipes for various types of special diets.