Alisa Fleming ~ If there's one thing I wasn't going to give up when I went dairy-free, it was cookies. Back in the day, most store-bought brands contained butter, milk, and other miscellaneous dairy ingredients. That was when I first started baking like it was my job. And now, making dairy-free cookie recipes is my job!
Today, there are many delicious options for purchasing dairy-free and even vegan cookies, but what I've learned over the years is that baking Christmas cookies is just as much fun as eating them! Well, okay, maybe not quite as much fun, but it is close. And nothing makes a better or more thoughtful gift than home-baked cookies (I said nothing – do not argue me on this one).
Since my kitchen is dairy-free, the gifts and party treats created in it are always dairy-free, too. I know some people are nervous about sharing their "free-from" goodies with those who regularly consume "normal" cookies, but trust me. Not only do I receive rave reviews, I'm also relied upon to always bring the desserts to every Christmas party, even though I used to be the only one among our friends who was dairy-free. Yes, I said "used to be." Cookies are that powerful people. They can create converts.
Share some of these sinful sweets this holiday season, and maybe, just maybe, you'll bring a few more people over to the dairy-free dark side …
Chocolate Explosion Oatmeal Cookies
Vegan Samoa Cookies (a.k.a. Caramel De-Lites)
Chocolate Sandwich Cookies with a Candy Cane Creme Filling
Super Natural Mesquite Chocolate Chips Cookies
Allergy-Friendly Sunblossom Cookies
Easy Peasy Peanut Butter Chocolate Chip Cookies
Soft and Chewy Vanilla "Butter" Cookies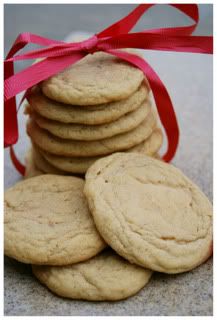 And a bonus "healthy cookie" recipe to make it a baker's dozen …
Nut 'n Honey Raisin Bran Cookies
Article by Alisa Fleming, founder of GoDairyFree.org and author of Go Dairy Free: The Guide and Cookbook for Milk Allergies, Lactose Intolerance, and Casein-Free Living. Alisa is also a freelance writer for several publications, with an emphasis on creating recipes for various types of special diets.