Back to school dates seems to be sneaking up on us.  Before you know it, lunch boxes will be flying out the door … but what will they be filled with?  With so many unhealthy options tempting children at school, sending them off with some good nutrition seems ever more important.  Not to mention, with the rising occurrence of special diets, from vegan living to food allergies and celiac disease, tasty homemade foods may be a necessity.  Luckily, there are some simple lunch box ideas that can be easily customized to just about any diet:
Make Your Own Trail Mix – Does your child love apple rings, banana chips, or almonds?  Head to the bulk bins and stock up on their favorites, so you can throw together a quick and less expensive, homemade trail mix.  If your child has food allergies, or has friends or classmates with nut allergies, and you would rather not risk cross-contamination from bulk bins, try the wonderful new trail mix from Nonuttin' Foods or No Nuts! from Enjoy Life Foods.  Both companies run facilities that are free of milk, eggs, peanuts, and tree nuts.  Enjoy Life Foods is also a gluten and soy-free company.
Eat Your Veggies! – Baggies filled with baby carrots, celery sticks, cucumbers and salad tomatoes are an easy way to get vegetables in your child's diet, especially when paired with a tasty dip!  Some wonderful dip ideas that most kids can enjoy, regardless of diet, include hummus, salsa, and a homemade bean dip.  Of course, Ranch is a very popular dip amongst little ones, and no child should feel left out.  Organicville has recently released a Non-Dairy Ranch Dressing that is certified organic (read: no funny ingredients), vegan, gluten-free, nut-free, and made in a dedicated facility…. and really, it is quite good!
What Can't be Dipped? – Sliced fruit benefits nicely from a sweeter dip for an easy and healthy dessert.  Pack some applesauce, soy yogurt, or even a luxurious caramel dip for a special treat.  What about those sneaky browning slices of apple?  Check out this mother's pineapple secret for keeping slices of apple fresh throughout the day.
Fruit Salad – Beyond dipping, colorful fruit takes on delicious appeal when mixed up in a variety of fun shapes.  Serve up a container of melon balls, berries, pineapple chunks, chopped pears (with skin of course), or other colorful fruit.
Virtuous Bars and Bites – There are a few kid-friendly bars on the market, such as Clif brand Zbars, but really, homemade bites are always a less expensive and healthier option.  Try this fine-tuned recipe for (vegan and nut-free) Granola Bars or some gluten-free Pistachio Sports Snacks.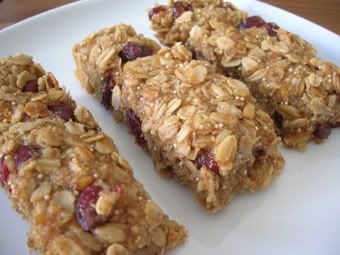 PB & J Creativity – Switch out the regular bread with a bagel (lower "smoosh" effect) or an English muffin.  Is your little one gluten Intolerant?  Try a bagel from Enjoy Life Foods or an English Muffin from Kinnikinnick.  No peanuts allowed?  Try some almond or cashew butter (Trader Joe's can't be beat).  Better yet, switch to Sunflower butter for a safe and tasty alternative.  Don't feel stuck on the "J" either.  Try a teaspoon of honey or maple syrup, or slices of banana or apple (don't forget the cinnamon) for a fun stackable experience!
Bake Healthy Cookies – Even as a small child, the one way to get me working in the kitchen was to say the word cookies.  But honestly, whether they were made with straight sugar or spiked with zucchini, I couldn't have cared less, as long as I were making something that looked like a cookie.  For a hearty option, bake up some versatile Breakfast Cookies, or play around with these basic Wheat-Free Sesame Raisin Cookies.  Oh yes, and there actually is such a thing as Zucchini Cookies (substitute whole wheat pastry flour for a fiber boost).
Chips Lighten Up – The days of deep-fried munchies are numbered.  Moms are wising up to the healthier baked alternatives such as Stacy's Pita Chips, Pretzel Crisps, and Guiltless Gourmet.  But why not step it up a notch and make your own at home for a fresher tasting chip?  Tortilla chips, pita chips, and veggie chips are just a short oven ride away. 
Freezer Muffins – Muffins are an excellent option for quick breakfasts and lunch boxes.  Simply pop an individual muffin straight from the freezer into a lunch box, it should be perfectly thawed in time for lunch or an afternoon snack.  For a breakfast treat, remove the muffins from the freezer the night before serving, or simply pop them in the toaster oven for a couple of minutes.  For some breakfast-worthy ideas try Orange and Pecan Bran Muffins, Fall Harvest Muffins, or the more indulgent Banana Chocolate Chip variety.
Granola – As a child I could have eaten cereal any time of day.  While those corn flakes or sugary cereals didn't have the staying power for my high energy levels, the many new granolas on the market can make for a tasty and calore-rich snack, even without the cereal bowl.  Gluten-free consumers can enjoy brands such as Bakery on Main (gluten-free versions) and Enjoy Life Foods (cinnamon, cranapple, very berry).  Of course, this is another great make-at-home option.  Insanely easy and able to be prepared in mass batches, don't underestimate the powers of homemade granola.  Even gluten-free granola can be prepared in no time.
Of course, the above ideas work for "big kid" lunch boxes too!